"Go into all the world and make disciples"
Jesus
Family Friendly Short Term Mission Teams
Straight Street International is a family friendly ministry that has hosted people of all ages from babies through the elderly. If you, your family, group or church would like to come serve alongside us and minister to the people of Nicaragua, we would love to host you year round. We have many opportunities to serve from sports, children, women, construction, evangelism, feeding programs, or we can custom tailor a week of missions for you or your group. The typical team serves with us a week with varied activities each day. You will find our staff to be the most caring, heartfelt individuals desiring to offer you the best experience possible. We take care of all of the scheduling, transportation, language needs, and special requests that you may have. Custom tours may be setup also to see the beautiful land of Nicaragua.
A typical Week
Click here to explore what a typical week of serving in Nicaragua looks like including lodging, the schedule, your transportation, food, and other need to know trip information.
Team Documents
Click here to access the necessary documents needed for a week serving with Straight Street International including team informational packets, training packets, and committment forms.
Explore Nicaragua
Click to here to explore Granada, Nicaragua and see some of the beautiful sights and places that Nicaragua offers to its visitors. including possible free day opportunities for your team.
For a calendar of our teams and possible available dates click below (It is possible to take multiple teams during the same week).
The Missions Experience
We would like share with you what a typical week of missions is like with us at Straight Street International. You will arrive at Managua International Airport and after immigration and customs you will be greeted by a staff member of Straight Street International. From there the journey begins...
Missions Guesthouse
Your lodging is provided at the Straight Street International Guesthouse located 1 block off the main tourist street in Granada, Nicaragua. The house is very comfortable and has plenty of places for group share times. You will sleep in gender appropriate bedrooms with comfortable bunk beds with full bathrooms. We have sleeping for up to 22 people and can accommodate more if needed. In each bedroom is air conditioning and ceiling fans. Throughout the rest of the house are ceiling fans to provide ventilation and there are always plenty of cool breezes blowing off of Lake Nicaragua. You will eat all of your meals here at the guesthouse which are cooked by our incredible house staff. There is also an overlook on the roof which gives you an elevated view of the city.
Food
We serve typical Nicaraguense food prepared with our mission teams in mind. The food is cooked to the highest standards. For breakfast you may have pancakes, french toast, sausage, ham, fresh fruit, fruit juices, eggs, and a local favorite: gallo y pinto. There is always fresh purified water readily available, as well as other cola options. For lunch and dinner you may have chicken spaghetti, fried chicken tenders, fresh tortillas, rice and beans, fresh fruit, fajitas, guacamole, fresh salad, fried plantains, hamburgers, spaghetti, or chimichurri pork. Most people expect to lose a few pounds because of fear that they will not eat much food, but the testimony of most team members is the exact opposite, they actually gained a few pounds after eating the incredible food. If you have specific food allergies or a required special diet please inform your team leader or the missionaries direct. For an additional fee, it may be possible to accomodate your food needs.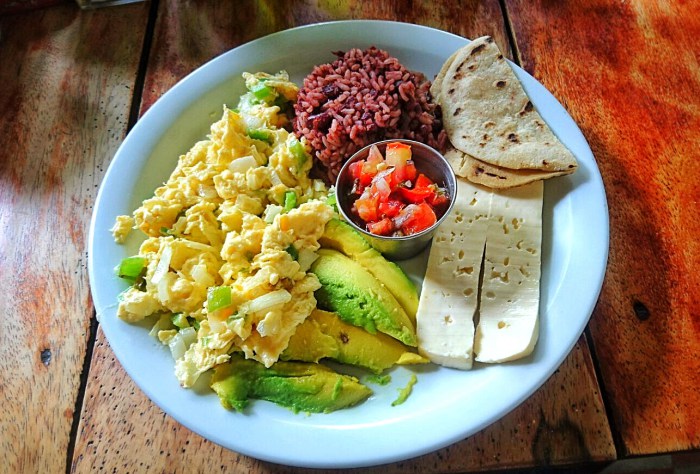 Transportation
You will always travel with a Straight Street International staff member in one of our air conditioned Toyota Land Cruisers. Most ministry trips that we take are no longer than 30 to 45 minutes away.
The Typical Week
Airport Pickup
Depending on when you fly into Nicaragua, the first day is typically a rest day from your travels. We will get you settled into the guesthouse and have a moment helping you understand the schedule and working through house rules.
Ministry Days
Breakfast is typically at 7:30 each day. After breakfast we encourage each team to have a moment of prayer and devotion before they head off for the day. Most days we send our teams in different directions doing different types of ministry. Because of the close proximity of most ministry sites each team travels back to the guesthouse for lunch. We try to build in some rest time as well after lunch to help you cool down from the heat and prepare yourself to head back out for ministry. Dinner is usually served around 5:30 each evening. After dinner, we encourage each team to have a share time and worship God for how he worked through each and every person. Afterwards, we encourage the team to grab some gelato in Granada and enjoy the city.
Sundays
Sundays are a very important day for Straight Street as we give our employees the day off to worship with their families. We will visit a local bilingual church to give you a small taste of what heaven will be like when people from every nation, tongue, and tribe will worship together around the throne. After church we will enjoy Pizza from Telepizza and then set off for your free day. See the 'Explore Nicaragua' tab above to see your possible options for your free day!
Important Documents for Your Trip
We have put together 3 documents for those interested in serving with Straight Street International. Please use these as an addendum for the information supplied o the site. The first document is a more in-depth packet describing the mission's experience here in Nicaragua.
The second document is a training packet designed to help you or your church prepare spiritually and practically for your week of service in Nicaragua. The training is designed to begin 4 weeks before you arrive in Nicaragua and there is devotional homework and insights into the life of the average Nicaraguan and how to share your faith.
Lastly, we have a commitment form for each individual traveling to serve with Straight Street. We ask that each person fills out a form after they have read the informational packet, worked through the training packet, and are able to commit to give of themselves for a week in Nicaragua.
Explore Granada Nicaragua
Below are some options for your free day in Nicaraga. Explore the beauty of God's creation. Most events only have a minmal cost. Contact us to see what opportunities might be available.
Enjoy Beautfiul San Juan Del Sur
Enjoy some coffee grown Locally
Internship Opportunities
If you are interested in serving with Straight Street International for a few weeks or even a few months please contact us to discuss opportunities, costs,and possible ministries available.
Vision Trips
If you are a leader and would like to do a vision trip with us to see Straight Street International and her ministries in action, contact us to setup a date for a visit.